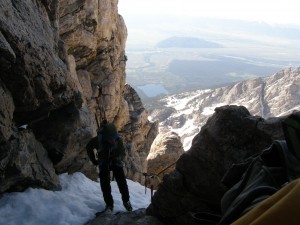 Well here it is, bootedandfed.com, the world will never be the same. Kidding. This is a web site dedicated to adventures in the backcountry. For me, backcountry travel, especially skiing, has been the natural progression. I skied at resorts for years.  Started at Bridger Bowl honing my skills on steep and rocky terrain, then moved to Alta to develop my powder skiing technique. Jackson Hole was the next logical step for bigger and badder mountains. While in Jackson, I gradually became less interested in skiing bumpy terrain with tons of people around. I was drawn to the vastness of wild terrain out there with less tracks. The backcountry is all about the planning, the search, the commitment, and the reward.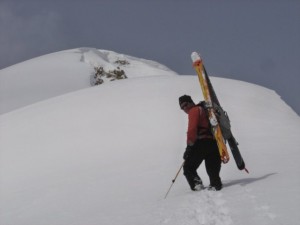 Jason Harper was a backcountry skier. He passed away a few years ago trying to ski Mt Sanford in Alaska, solo. I will never forget the morning someone woke me up in the Fort, and I saw saw Harper standing on top of Country Lane. I thought wow, he must have started hiking in the dark. This was a new concept for me, I didn't think people started skiing until the lifts started running.  Oh, and he skied it top to bottom without stopping all the way to the road. We definitely crossed paths a few times in bounds, and around the lodge. We may have even skied a real backcountry day together, I don't recall. I don't think I really skied with Jason until Las Lenas a few years later.
             Having  solid plans, with solid partners is the foundation of backcountry adventures. Harper was the first person to really put this idea in my head. One day I heard him talking to Wayne Collins, aka Wayno, about the next days plan. I heard him say " What time do you want to leave"? Seemed like a logical question. Then they decided when to leave, and Harper came out with "Okay, booted and fed at 6". I really didn't think much of it at the time, just that it was a cool way to make a plan.
            The idea is to eliminate the variables leading up to a backcountry adventure by having a concrete plan. Early on in my skiing I made plans like normal people do. "Okay, lets go skiing tomorrow, I'll call you in the morning". To some people this seems like a perfectly effective way to go skiing. I've learned through personal, and more often anecdotal evidence, that this doesn't work. The plan has too many holes for time to slip into.  It may work sometimes, but that just isn't good enough.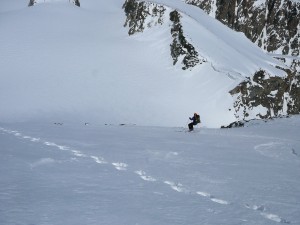 Being booted and fed at a certain time is crucial to the success of your adventure. If your a few minutes late to the ski resort to wait on lines all day, no big deal. If your a few minutes late in the backcountry,  it could mean life or death. In true backcountry situations, when you are really in the mountains, it is most important. If your booted and fed outside the tent and your buddy keeps hitting the snooze, there is a problem. Everyone takes a different approach to achieving the booted and fed status. Some are methodically slow, some methodically fast, and some methodically hopeless, you know who you are. You have to know what works best for you.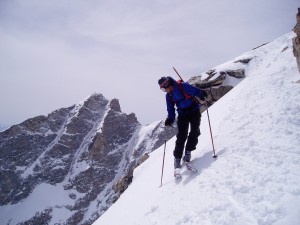 This website has been a goal of mine ever since my partners and I started documenting adventures with a camera. I have a ton of past experiences to share with words and photos,  as well as many more to come. Being booted and fed, at the right time, with the right people, is the key to further progression in the mountains. Enjoy the ride.
                Thanks to all, you know who are.
Mike Calla